Berthouzoz Women in Research Lunch
Posted on 2022-07-14
The Berthouzoz Women in Research Event is an annual networking event organized by WiGRAPH for researchers, faculty, and students. Floraine Berthouzoz started this event as an informal gathering. After her passing in 2015, Floraine's mentees and colleagues built upon her efforts to create an event that aims to broaden the network of women researchers and provide a friendly and personal environment where graduate students can interact with senior researchers. We will be hosting a panel of women in graphics who will share with us some of their research experiences. The event is open to all researchers, regardless of gender.
Post-Event Update
Check out the summary of this panel discussion to get the panel's insights on inspiration, long-term visions, work-life balance, handling failure, and more!
Details
Event Date: Wednesday, August 10 from 12:30-2:00pm PDT. Lunch will be served at 12:30 pm PDT for in-person participants; for Zoom participants, we will have breakout rooms beginning at 12:30 pm PDT, so you have a chance to mingle with other attendees! The panel discussion will begin at 12:45 pm PDT.
Location: This event will be held in person with a live broadcast for those who are attending SIGGRAPH virtually. The in-person event + lunch is co-located with SIGGRAPH at the Fairmont Waterfront hotel, Mackenzie Ballroom 1. The link to join our virtual space will be sent via email to all registered participants.
To participate, please register using our Google form. Please note that participation in the 2022 Berthouzoz Lunch event also requires SIGGRAPH registration.
Update
All registered participants should have received an email from events@wigraph.org around 6pm PDT on August 9, regarding the Lunch. This email contains (1) the Zoom link for people joining virtually, (2) a link to submit questions anonymously during our event, and (3) some additional information about the options for submitting questions for our panelists.

If you registered before that time but did not receive this email, please check your spam folder.

If you still cannot find it or you registered after this time, please let us know using this pre-filled email template, and we will send you the information again.

We look forward to seeing you soon either in person or over Zoom!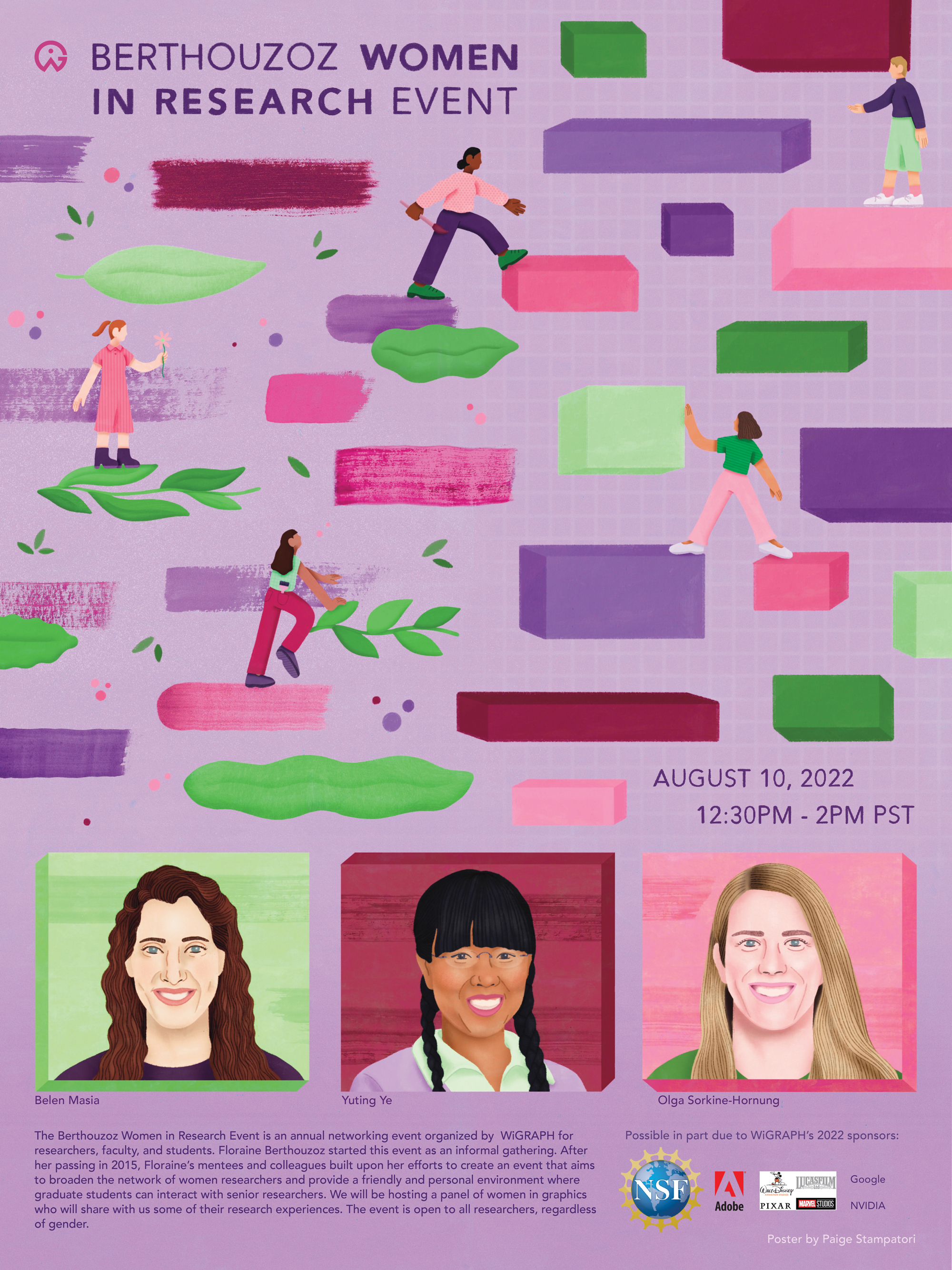 Poster by Paige Stampatori
Panelists
Belen Masia

Associate Professor
Universidad de Zaragoza

Belen Masia is a tenured Associate Professor in the Computer Science Department at Universidad de Zaragoza, and a member of the Graphics & Imaging Lab of the I3A Institute. Her research focuses on the areas of computational imaging, applied perception, and virtual reality. Before, she was a postdoctoral researcher at Max Planck Institute for Informatics. Belen Masia is a Eurographics Junior Fellow. She is also the recipient of a Eurographics Young Researcher Award in 2017, a Eurographics PhD Award in 2015, an award to the top ten innovators below 35 in Spain from MIT Technology Review in 2014, and an NVIDIA Graduate Fellowship in 2012. She has served as an Associate Editor for ACM Transactions on Graphics, Computers and Graphics, and ACM Transactions on Applied Perception. She is also a co-founder of DIVE Medical, a startup devoted to enabling an automatic, fast, and accurate exploration of the visual function, even in non-verbal patients. Belen is committed to the promotion of engineering and research among young students, and in particular among women, and has given talks and been part of various initiatives in this area.

Olga Sorkine-Hornung

Professor
ETH Zurich

Olga Sorkine-Hornung is a Full Professor of Computer Science at ETH Zurich, Switzerland, where she leads the Interactive Geometry Lab at the Institute of Visual Computing. Prior to joining ETH, she was an Assistant Professor at the Courant Institute of Mathematical Sciences, New York University (2008-2011). She earned her BSc in Mathematics and Computer Science and PhD in Computer Science from Tel Aviv University (2000, 2006). Following her studies, she received the Alexander von Humboldt Foundation Fellowship and spent two years as a postdoc at the Technical University of Berlin. Her primary research interests lie in computer graphics, geometry processing, shape representation and modeling and discrete differential geometry. She has published over 120 peer reviewed articles in top computer science venues. Olga has served as a member of the ACM Turing Award Committee in 2017-2022 and was the Committee Chair for 2020. She served as program chair for most conferences in her field, including the SIGGRAPH 2019 Technical Papers program. Olga received several scientific prizes and awards, including ERC Starting and Consolidator grants, the ACM SIGGRAPH Significant New Researcher Award and the Eurographics Outstanding Technical Contributions Award. She is a Fellow of the ACM and the Eurographics Association.

Yuting Ye

Research Scientist
Reality Labs Research @ Meta

Yuting Ye is a research scientist at Reality Labs Research @ Meta. Her current research focuses on the tracking and synthesis of digital humans, as well as creative human-centric content creation for AR/VR applications. Her previous work on egocentric hand tracking is now available on the Quest and Quest2 VR devices. Before joining Meta (formerly known as Facebook) in 2015, Yuting was an R&D engineer at Industrial Light & Magic, where she worked on the facial performance capture system and the character rigging system BlockParty2. Both systems contributed to many blockbusters such as the Avengers, Transformers, and Star Wars series among others. Yuting obtained a PhD degree in computer science from Georgia Institute of Technology in 2012 for her work on character simulation and animation.
Organizers
Advisory Board