Call for Rising Stars Applications
Posted on 2023-01-15
The Rising Stars in Computer Graphics program is designed to encourage people of underrepresented genders to become research leaders in computer graphics. This is a two-year program tailored for researchers who expect to be on the job market in two years' time. We target this period because most students have reached sufficient research maturity, but it is common to still be weighing options and making decisions about future career directions.
This program will consist of three components: workshops (co-located with SIGGRAPH 2023 and 2024), a mentoring program, and peer-mentoring activities. The SIGGRAPH 2023 workshop will help participants explore different career trajectories within graphics research (academia or industry), while the SIGGRAPH 2024 workshop will focus on advice for successfully navigating the research job market. Furthermore, the program will pair each rising star participant with a senior mentor and will also include peer-mentorship activities to encourage the participants to get to know each other and form lasting connections.
WiGRAPH will provide travel support for all accepted participants, to defray the cost of attending the conference.
The application for Rising Stars 2023 has closed. Thank you to all who applied, and congratulations to our new cohort of Rising Stars!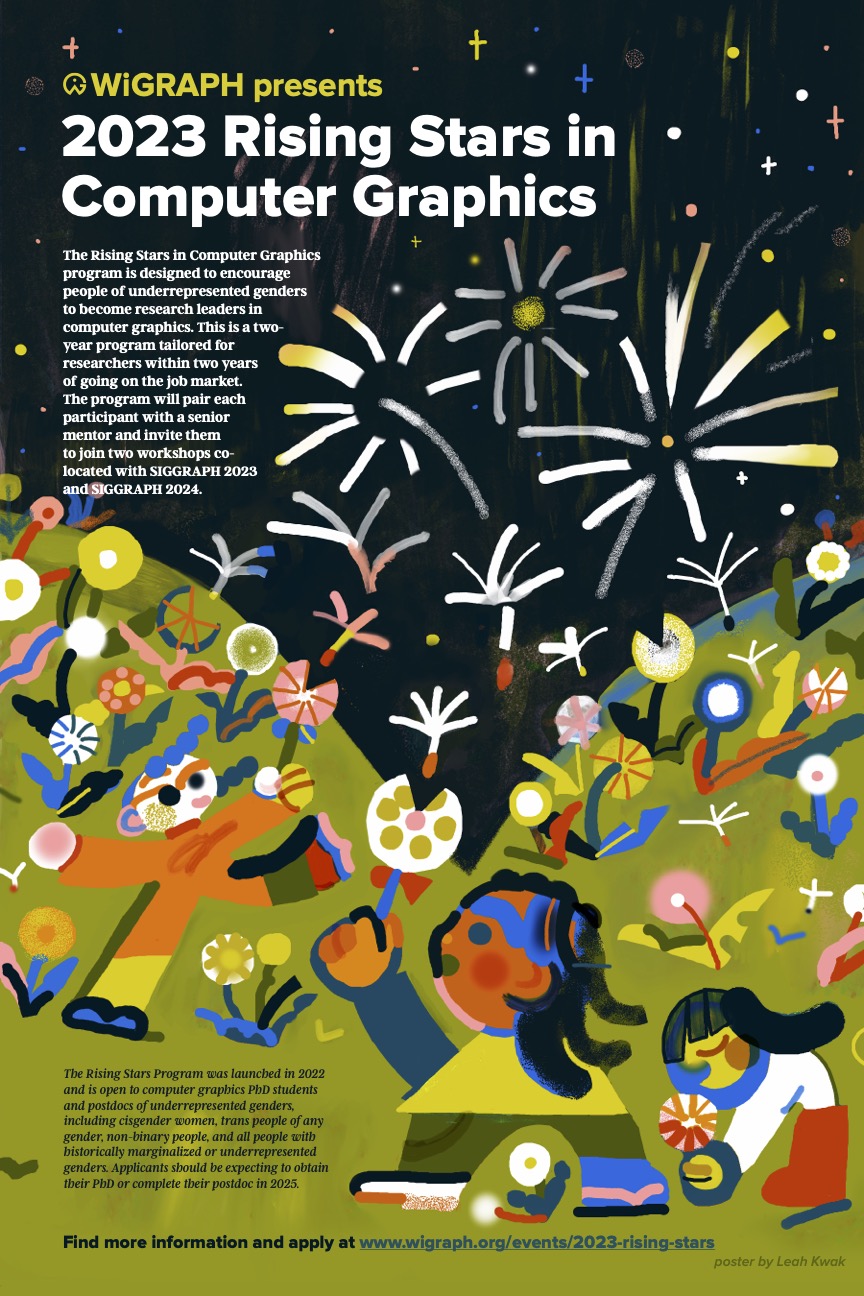 Poster by Leah Kwak
Important Dates
February 7: Application Opens
April 7: Application deadline (letter of recommendation must also be submitted by this deadline)
May 15: Decision notifications
August 6-10: SIGGRAPH
Eligibility
The Rising Stars Program is open to computer graphics PhD students and postdocs of underrepresented genders, including cisgender women, trans people of any gender, non-binary people, and all people with historically marginalized or underrepresented genders. Applicants should be expecting to obtain their PhD or complete their postdoc in 2025.
If you're trying to decide whether Rising Stars is right for you, check out our Eligibility FAQs for additional information!
Application Materials
One Letter of recommendation
CV
Application form, which requests general information about the applicant, a 500-word research statement, and a 500-word personal statement (see the FAQ below for guidelines on writing each statement).
Submitting the Recommendation Letter
Letter writers should upload the recommendation to this Dropbox File Request. Please be sure that the filename contains the applicant's name and application ID (assigned by EasyChair; provided to recommenders by the applicant). After the letter has been successfully submitted, the recommender will receive an email confirmation from Dropbox.
Note: The EasyChair application form will ask the applicant to provide the name and email address of their recommender, but this will only be used by the WiGRAPH team to facilitate matching between the applications and their respective recommendations. It is the applicant's responsibility to ensure that their letter writer knows where/when to submit their letter.
FAQ
What are you looking for in a research statement?
We are looking for evidence of research maturity and contributions to the field of computer graphics.
---
What are you looking for in a personal statement?
We are looking for people who will make a positive impact in the computer graphics research community. Applicants are welcome to write about whatever topics best describes their potential to contribute to the community, but here are some suggestions:
What is unique about your background?
Why are you passionate about computer graphics research?
Which experiences led you to develop your skill set and passions?
Where have you demonstrated leadership and collaboration?
How will/have you contributed to the computer graphics research community?
How will/have you contributed to Diversity, Equity and Inclusion (DEI) efforts [in the computer graphics research community and/or in general]?
---
How should I fill out the EasyChair application form?
To apply for Rising Stars, our EasyChair submission form will require the following material:
A 500-word research statement (see FAQ for details)
A 500-word personal statement (see FAQ for details)
Your CV with links to website and publications (if available)
The name and email of your recommendation letter writer (the letter itself must be submitted by your recommender; please consult the EasyChair and/or the current year's application call for further instructions.)
For the default Title field (which cannot be removed): please fill in your name.
For the default Keywords field (which cannot be removed, at least three words required): please enter RSCG and your first and last names.
---
Will I be able to update my application until the deadline?
Yes! Even after submission, EasyChair will allow you to update your application materials until the deadline. Feel free to submit as early and often as you'd like, to make sure that your application isn't thwarted by any technical glitches as the deadline approaches.
---
Additional Information
For additional information about the Rising Stars program – including eligibility guidelines, program details, and an archive of past/upcoming events and awardees – please visit our Rising Stars Program page.