Join us for an interview with Hayley Iben, who recently received a Technical Achievement Award from the Academy of Motion Picture Arts and Sciences for her work on Pixar's Taz hair simulation system. Congratulations, Hayley!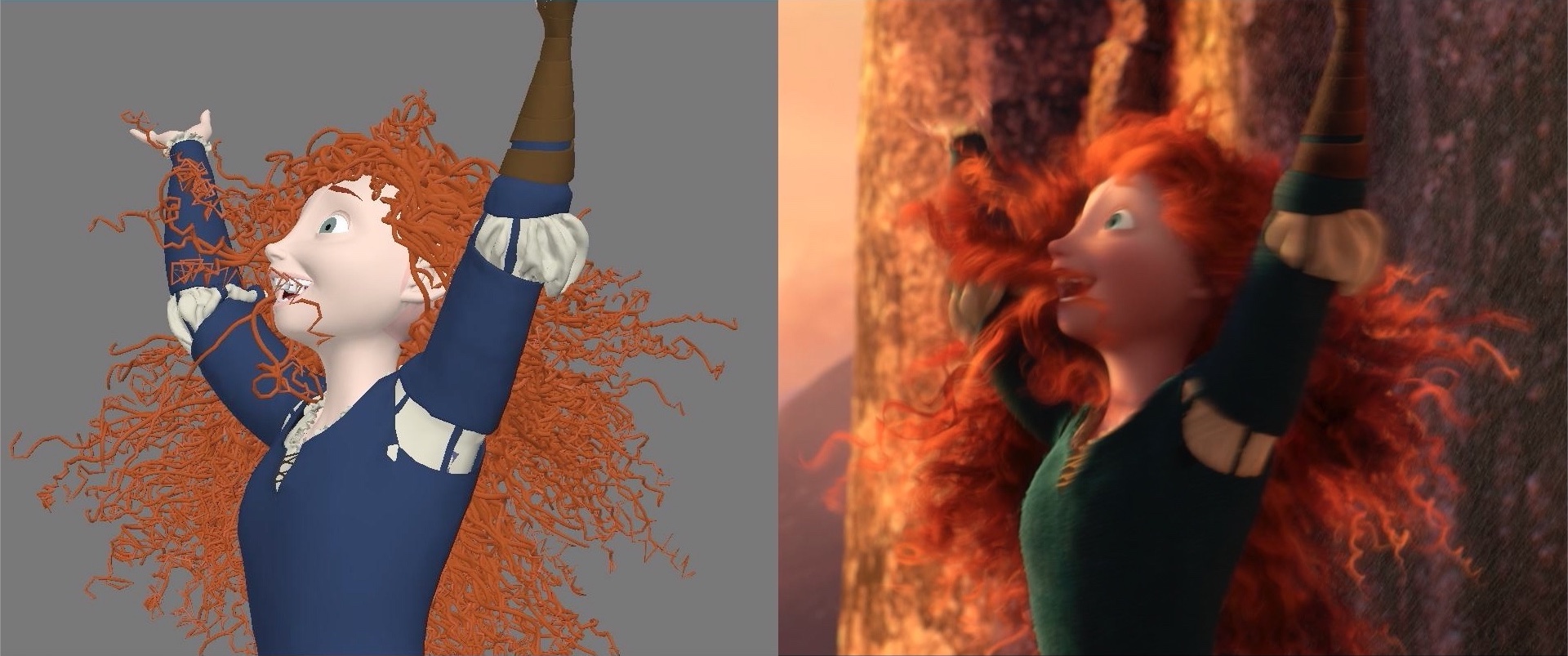 ©Disney/Pixar
Meet Hayley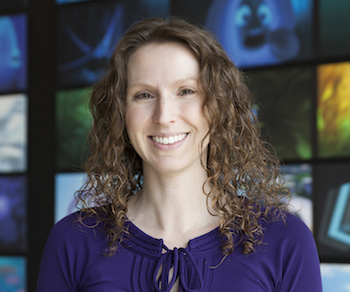 Hayley Iben joined Pixar Animation Studios in 2006 as an intern and transitioned to a full-time position in 2007 within the Software R&D department. She contributed to the award-winning Presto Animation System, building tools for character articulation and animation with a focus on inverse kinematics and mathematical techniques. In 2010, Hayley joined the team that was researching and developing the studio's hair simulation technology, Taz, that debuted on Pixar's Academy Award®-winning film "Brave." In 2013, Hayley was promoted to lead the simulation engineering team that was responsible for character effects technologies such as cloth, hair, flesh and skin. She also continued to evolve Taz, which has been used on hundreds of animated characters since its creation and on nearly every Pixar film since "Brave", including "Inside Out," "The Good Dinosaur," "Finding Dory," "Coco," "Incredibles 2," "Toy Story 4," "Onward," and "Soul."

Since 2020, Hayley has been a Director of Engineering at Pixar, overseeing the teams that create and support the software used by much of the film production departments at the studio. In Feb. 2021, Hayley and collaborators were honored by the Academy of Motion Picture Arts and Sciences with a Technical Achievement Award for their work on Pixar's Taz Hair Simulation System.

Hayley earned a B.S. in computer science from Duquesne University, and a M.S. and Ph.D. in computer science with an emphasis in computer graphics from the University of California, Berkeley.
Q & A with WiGRAPH
What initially drew you to the field of computer graphics? Have your motivations or research niches within graphics evolved over the years?
I always loved cartoons as a child and would watch them with my family. My favorite films were the hand animated Walt Disney films and I was amazed by Pixar's "Toy Story" when I first saw it in the theater. I think it was that moment that I realized that I could use my skills with computers to create animation and I wanted to learn more about it in college, and eventually graduate school. The field of computer graphics is vast, so exploring more than one area seems natural. I explored different thesis topics for my MS and PhD and these research projects directly contributed to some of the areas of specialization during my career at Pixar Animation Studios, particularly my years working in inverse kinematics algorithms and hair simulation. I have worked in other areas of graphics over the years as well. Personally, I love problem solving, so I could imagine changing focus as new problem areas arise.
You've worked at Pixar ever since you obtained your PhD – what drew you to production research and what continues to tether you there? Did you ever consider going into academia?
Over the course of my undergraduate and graduate studies, I had pursued internships at different companies so I had some familiarity with industry opportunities. As I was nearing graduation, I discussed possible career paths (academic or industry) and their trade-offs with my research advisor and my mentor from industry. It was through these discussions that I decided to apply for internships prior to graduation, to see if that was a career path I wanted to pursue, and accepted the opportunity at Pixar Animation Studios in their research team. It was a fantastic opportunity and experience working with Andrew Witkin and Tony DeRose, both of whom had been in academia previously. After years in graduate school, I found the industry experience more enjoyable than open ended academic projects because it was driven by specific goals motivated by production needs, so I decided to pursue industry careers.

I soon switched to a project that was more closely tied to software deadlines and applied to a software engineer position, not a research position, as research scientist openings are extremely limited. My professional career has been mainly as a software engineer, not a research scientist, which had the added benefit of more team leadership opportunities at Pixar as highlighted in my career path. As an engineer, it is my responsibility to create and support the software that the production department uses to make the films, both in the short and long term at the studio, which is a different goal than a purely research position. I work closely with the production users in the departments to learn what is needed or what isn't working well currently, as well as plan for future looking projects. We collaborate to find solutions, and I would sometimes fix the issues with existing techniques or come up with new ideas to advance the technology, which is essentially doing research as an engineer.

When a new Pixar film debuts, it is that excitement that I directly contributed to the making of that film that keeps me in industry. There is no shortage of ideas or areas to improve in our software or workflows as we strive to increase artistic reach at the studio, making Pixar Animation Studios an exciting place to work.
How do research ideas originate in a production environment? Does the production team send a problem spec to the research team to solve, or is there more collaboration?
There are many avenues for generating ideas in a production environment. For instance, the technology that is developed at Pixar is motivated by the story and art generated by the production departments for a film. Another common source of ideas is by observing the existing workflows of the production users and seeing where improvements can be made. Whatever the source, the production departments and their supporting Software R&D teams collaborate closely on the technology needed to create the artistic vision for the film. There is much "research" happening by production, research, and software development teams in the company, as demonstrated by the multitude of Siggraph Talks and Panels in addition to Siggraph Papers.
How do you determine whether the production team's wish list is feasible in a given timeframe? What happens if a research solution isn't complete by a production deadline – do you continue working on that project or switch gears?
Pixar Animation Studios is unlike a typical software company because it has both the users and the software engineers in the same place, giving a unique software development environment. We maintain a close collaboration between production and Software R&D teams, particularly important when discussing needs or desires of the users.

To be successful in meeting production's needs, we use both leadership and software engineering skills to determine what is feasible in a given timeline. For example, a leader will have the project assessed and determine if there is sufficient time and resources to achieve the goals. This kind of assessment is accomplished by software engineering planning (i.e., breaking down the problems into tasks, estimating the time it will take to do these tasks, listing the unknowns, possible risks to the project, etc.) Based on the time estimates, we can determine approximately how long the project will take to complete and if it will be accomplished by the production's deadline.

If there is insufficient time, we will closely work with production teams to prioritize the requests. Some of the tasks may be completed while others may have to wait until later or be entirely skipped, depending on the needs of the production team and the long-term goals of the department as a whole. Alternatives may need to be explored if there is insufficient time, which is why frequent communication is necessary. The best results have been a close collaboration between the software and production teams to discuss what is needed, receive feedback for in progress work, and work closely together to deploy the technology into production.
A theme among this year's Technical Achievement Award recipients is achievement in hair simulation – why has hair posed such a challenge, and what do you see as open problems (or room for improvement) in hair simulation?
We developed the Taz Hair Simulation System to achieve the previously unachievable desired artistic look and motion of long, curly, hair for the heroine "Merida", as well as to support the various hair styles for Pixar's "Brave". To approximate the thousands of interactions found in real hair, we created a new model of the hair that captured the interactions within a single curly lock using physics and a method that efficiently and stably computed the large number of interactions of locks with each other to give Merida's hair its signature volume.

In addition to the large number of hairs to efficiently represent, computer animation can often be non-physical during motion, which can be challenging artistically because simulation is based on physics. For example, when the character Merida spins around quickly, a physical simulation would result in her hair covering her face during the spin. However, artistically, animation wanted Merida's face to be visible most of the spin for acting purposes. To handle such cases, we needed to add controls in the simulator to art direct the hair so that it is not in Merida's face during the spin, for example. Although we've added some artistic controls, there is certainly room for further investigation.

There are many challenging hairstyles that have not been thoroughly researched or explored. Our hair simulation system has focused on straight, wavy, and curly hairstyles, but there are many more types of hair that are open areas of research.
What activities or discoveries outside of work have brought you joy during lockdown?
After a year of being entirely at home with work and schooling virtually, my family and I have found activities that we can share to be most enjoyable during the pandemic. Early on we found that regular exercise through walks around the neighborhood several times a week breaks up the monotony of being at home all day. We have also designated Friday night to be "movie night," giving us something to look forward to at the end of the work/school week. Although these are small items, together it gives a sense of normalcy that has been needed while so much of the year has been abnormal.