Call for Rising Stars Applications
Posted on 2022-01-15
The Rising Stars in Computer Graphics program is designed to encourage people of underrepresented genders to become research leaders in computer graphics. This is a two-year program tailored for researchers who expect to be on the job market in two years' time. We target this period because most students have reached sufficient research maturity, but it is common to still be weighing options and making decisions about future career directions.
This program will consist of three components: workshops (co-located with SIGGRAPH 2022 and 2023), a mentoring program, and peer-mentoring activities. The SIGGRAPH 2022 workshop will help participants explore different career trajectories within graphics research (academia or industry), while the SIGGRAPH 2023 workshop will focus on advice for successfully navigating the research job market. The program will pair each rising star participant with a senior mentor and will also include peer-mentorship activities to encourage the participants to get to know each other and form lasting connections.
WiGRAPH will provide travel support for all accepted participants, to defray the cost of attending the conference.
The application for Rising Stars 2022 has closed. Thank you to all who applied, and congratulations to our inaugural cohort of Rising Stars!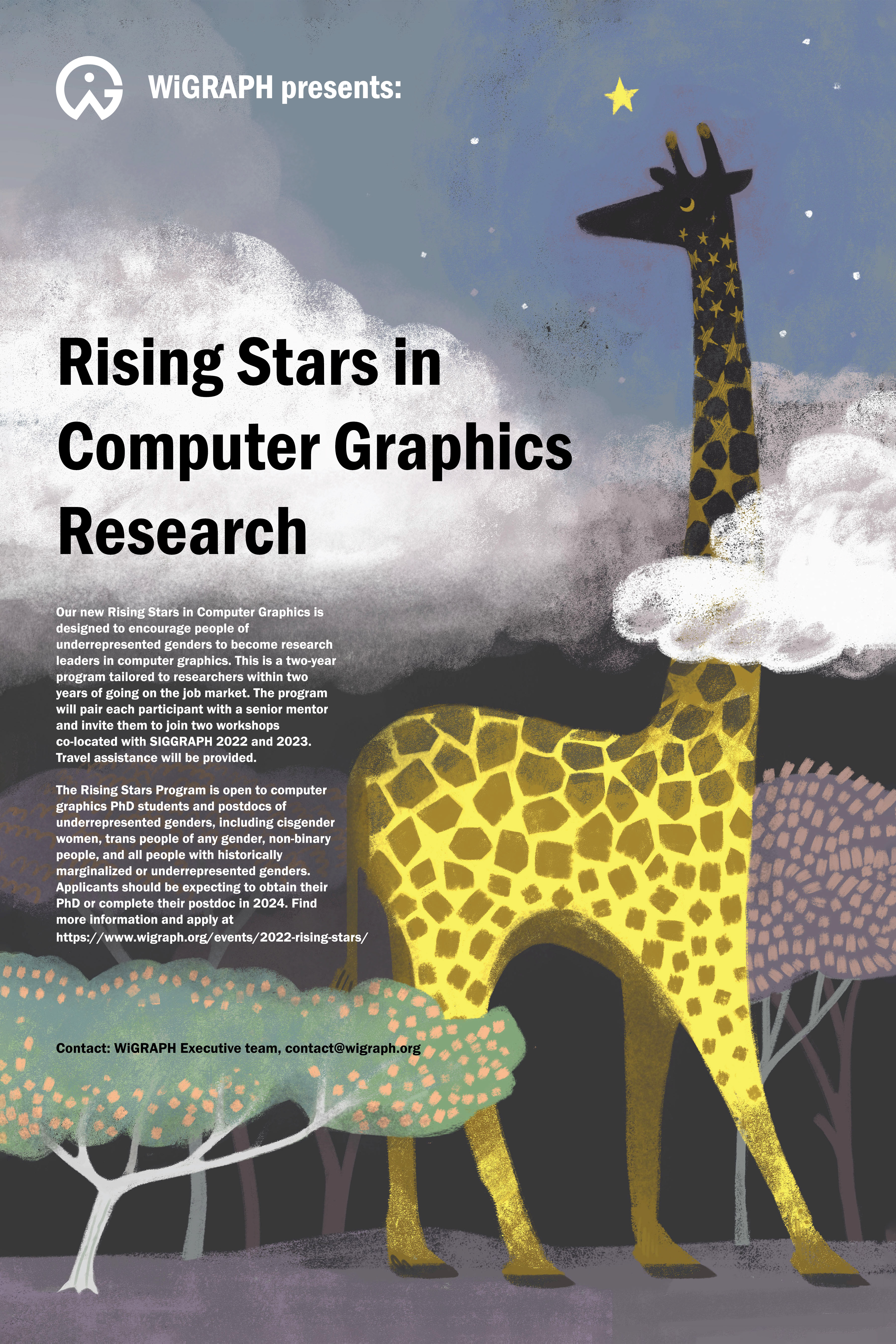 Poster by Genevieve Simms
Eligibility
The Rising Stars Program is open to computer graphics PhD students and postdocs of underrepresented genders, including cisgender women, trans people of any gender, non-binary people, and all people with historically marginalized or underrepresented genders. Applicants should be expecting to obtain their PhD or complete their postdoc in 2024.
Application Materials
One Letter of recommendation.
CV
Application form, which includes general information, a 500-word research statement, and a 500-word personal statement (see our tips on how to apply for guidelines on writing each statement)
Important Dates
February 7: Application Opens
April 4: April 8: Application deadline (letter of recommendation must be submitted by then)
May 13: Decision notifications

We have notified our first round of accepted recipients -- congratulations! However, due to the large volume of exceptional applications we received, we are currently trying to accommodate additional participants in our program. For those of you who have not received a response yet, we'll be in touch by next Friday, May 20. Thank you for your patience!

Aug 7-11: SIGGRAPH
Additional Information
For additional information about the Rising Stars program – including eligibility requirements, application guidelines, and an archive of past/upcoming events and awardees – please visit our Rising Stars Program page.